Bangladesh
Agricultural Development in Persons with Disabilities (PWDs) 2009
Bangladesh Protibandhi Kallyan Somity(BPKS)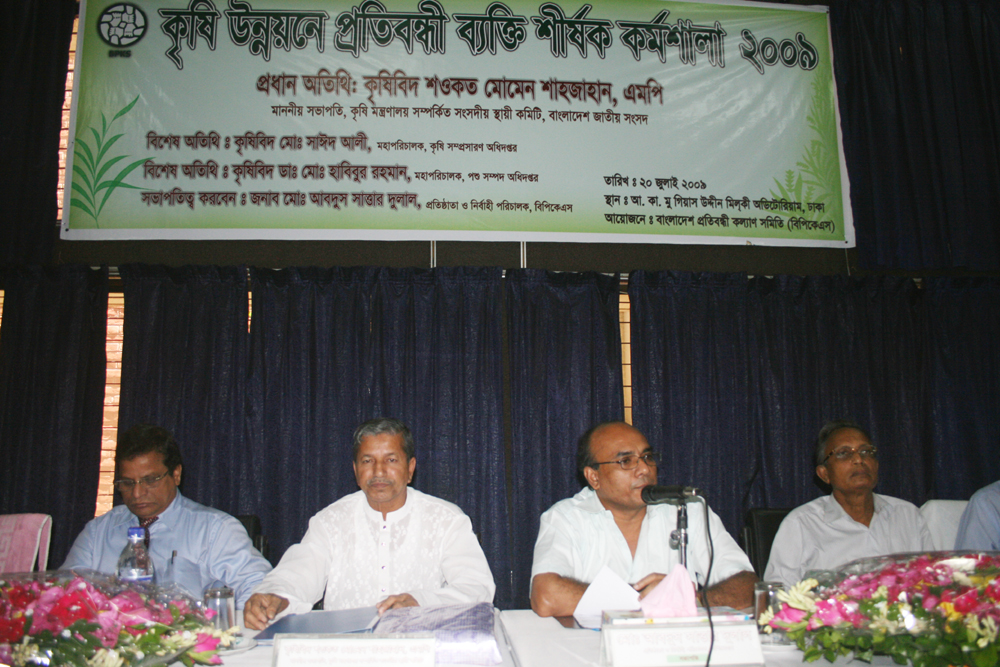 A day-long workshop on โ€œ Agricultural Development in Persons with Disabilities (PWDs) 2009โ€ was organized by Bangladesh Protibandhi Kallyan Somity (BPKS) held at the A.K.M Gaias Uddin Milki Auditorium in the Khamar Bari on July 20.
Agriculturist, Mr. Sowkat Momen Shah Jahan (MP), president of the parliamentary standing Committee, Ministry of Agricultural was present as the Chief Guest. Agriculturist Mr. Syed Ali, General Director of Directorate Agriculture and Agriculturist Foni Bhoson Mandol were present as special guests in this workshop.
The objective of the workshop was to expedite national development by participation and inclusion of the persons with disabilities in the Agriculture, Fishery and Livestock Sector of the Country. Mr.S M Shafiqul Alam, Asstant Director, of BPKS gave the welcoming speech and introduce dignitaries to the audience.
Besides, Agriculturist, Dr. ANM Waliullah, Deputy Director, Department of Agriculture Extension, Agriculturist, Dr. Md. Mehadi Hossain, Deputy Director, Department of Livestock and Agriculturist, Tofazuddin Ahammed, Assistant Director (Planing), Department of Fisheries was there Resource Persons.
Mr. Abdus Sattar Dulal, Founder and Executive Director of BPKS presided over the workshop.
A total of 205 Representatives from different Disabled Peopleโ€™s Organizations, Journalist, Government officials, public and NGO representative participated in the workshop.
Source : Ishaque Mia, Coordinator, DPO Section, BPKS
By: Ishaque Mia, Coordinator, DPO Section, BPKS
When: 7/2/2014