General News
The Training Program Independent Living and Mainstreaming for Persons with Disabilities 2014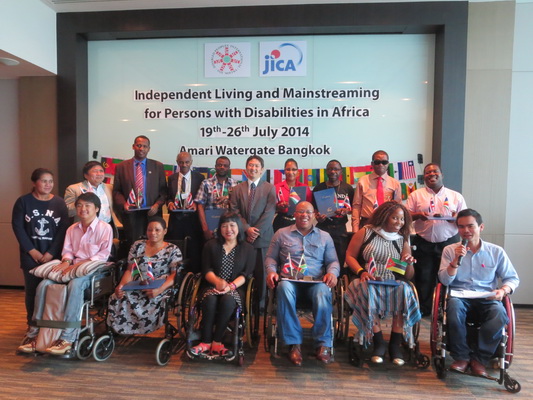 The Training Program Independent Living and Mainstreaming for Persons with Disabilities was held between 29 June – 19 July 2014 in Japan and 19-26 July 2014 in Thailand. The training organized by Japan National Assembly of Disabled People's International (DPI-Japan) followed by Disabled People's International Asia-Pacific (DPI/AP) and supported by Japan International Cooperation Agency (JICA).
Overall Goal of the training:
Through collaboration between DPO (Disabled People's Organization)s and governments of each country and international network, Mainstreaming of disability issue in social development plan will be promoted, and DPOs will be involved in implementation process of UNCRPD.
Training Objective:
The participants will acquire strategic management skills to take initiatives for their independent living movements to promote"2ndAfrican Decade of Disabled Persons" and "United Nations Convention on the Rights of Persons with Disabilities" (UNCRPD) in African countries.
There were 10 participants representing organizations of Persons with Disabilities and governments in Malawi, Mozambique, Seychelles, South Africa and Sudan
Please download the Bangkok Recommendation from: www.dpiap.org