DPI/AP Reports 2010
Bangkok Sabai Walk Project: Design Competition to renovate area under the Siam BTS Station
Overview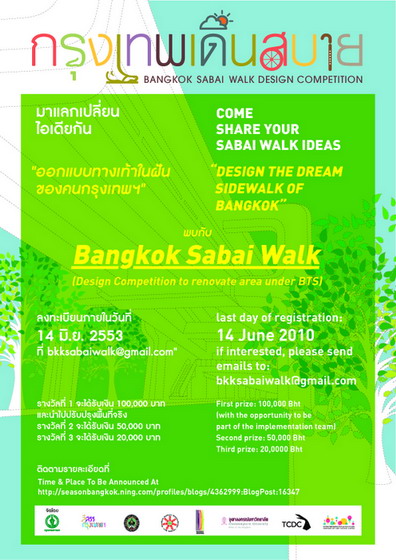 Bangkok Metropolitan Administration, Chulalongkorn University, Disabled Peoples' International Asia-Pacific (DPI/AP), The Association of Siamese Architects Under Royal Patronage, Bangkok Art and Culture Centre, Thailand Creative & Design Center, Quiet Bangkok Club and Art4d organize Bangkok Sabai Walk Project: Design Competition to renovate area under the Siam BTS Station
Bangkok Sabai Walk Urban Design Competition challenges designers to conceptualize a cutting-edge solution to the environment under the Siam BTS Station to improve the pedestrian experience - and make Bangkok more attractive for generations to come.
We invite teams of architects, landscape architects, urban designers, engineers, artists, creative thinkers and students from all related fields to compete. Multi-disciplinary teams are strongly encouraged as we believe that successful and more inclusive urban design proposals are usually a product of the cross-pollination of a number of disciplines. Competitors will generate innovative, compelling and environmentally friendly proposals that thoroughly re-imagine the spaces underneath the Siam BTS Station, with the aim of improving the pedestrian experience.
The design for the Bangkok Sabai Walk's form and function are equally important; a beautiful but impractical design will not serve Bangkok's needs. The winning design must be:
Economical
Viable in terms of construction, management and maintenance; and
Adaptable to multiple BTS stations.
Deadline of registration: 14 June 2010, submit the registration at bkksabaiwalk@gmail.com
For more information please visit: http://seasonbangkok.ning.com/profiles/blogs/4362999:BlogPost:16347 [In Thai]
Pleae download the Project competition from: http://www.dpiap.org/news/doc/Thai_SABAI_WALK_COMPETITION.doc [In Thai]
Pleae download the Project competition from: http://www.dpiap.org/news/doc/Eng_SABAI_WALK_COMPETITION.doc [In Eng]
Author:
Language: English
When: 1/5/2010