DPI/AP Reports 2012
Report: Mission to Nepal and DRPI National Disability Rights Monitoring Training in Nepal 18 - 24 April 2012,Kathmandu, Nepal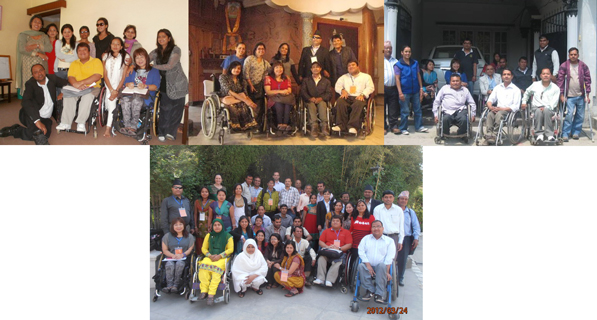 18-24 April 2012, DPIAP mission team visit Nepal to attand DRPI DRPI National Disability Rights Monitoring Training. DRPI Country Monitoring Project Training Workshop in Nepal organized by National Federation of the Disabled-Nepal with the support of Disability Rights Promotion International (DRPI) and Disabled Peoples' International Asia Pacific. The workshop was held during 18 - 24 April 2012 at Grand Norling Resort and Spa, Kathmandu, Nepal.
On this accasion, the mission team Courtesy visit to Royal Thai Embassy, to relay the objective of the workshop and the situation of the movement and rights of PWDs in Nepal. And to propose the guidelines and concept of accessibility to utilize to the Lumbini (birthplace of Lord Buddha) and make some renovation projects.
The mission team has the good opportunity to meeting with leader of PWDs in Nepal and South Asian Women with Disabilities Network, and also have visit to:
Nepal Disabled Women Association (NDWA) NDWA is the organization to empower Women with Disabilities in Nepal to advocate and participate in policy relates to right of WWDs
Visiting and meeting with Mr. Subedi, new president of Federation of the Disabled Nepal (NFDN).
Visiting Independent Living Center Kathmandu Nepal.
Please read the report from: http://www.dpiap.org/reports/doc/Report_Mission_Nepal-18-24_April_12_05_03.doc
Author: DPIAP
Language: English
When: 3/5/2012