DPI/AP Reports 2012
Workshop on Rights Sensitization and Disability Equality at Buddy Oriental Riverside Pakkred,Thailand 16 - 18 May 2012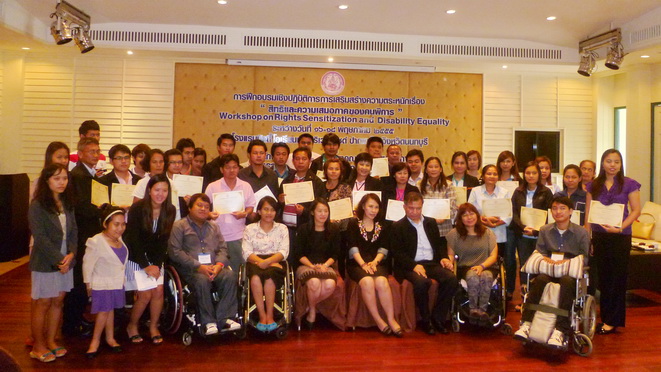 National Office for Empowerment of Persons with Disabilities (NEP) provided the Workshop on Rights Sensitization and Disability Equality to the Government office staffs under NEP. The workshop held at Buddy Oriental Riverside Pakkred, Thailand during 16 – 18 May 2012.
Disabled Peoples' International Asia Pacific (DPIAP) was assigned to facilitate the workshop, aiming to capacity building to encourage the participants starting explorer and identity what is the disability? and their perspective on Persons with disabilities (PWDs) through the methodology of the Disability Equality Training (DET).
NEP utilize this workshop to the NEP staff for sensitizing the attitude of persons who in the role of government officer whom implement the disability issue and to promote an understanding and the use of a disability equality perspective including a 'rights not charity' approach, beyond that to focusing the work task assignment and task duty perspective in term of developing the quality of the life of PWDs under the term of rights based approach for the full participation and equal opportunity of persons with disabilities in society.
Finally, participants will discover by their self and find out the solution to involve the disability issue into the mainstreaming and developing the task under their responsibility and realize that disability issue as the right based approach.
Author: DPIAP
Language: English
When: 28/5/2012