DPI/AP Reports 2012
Regional events: Welcoming new Asia and the Pacific Decade of Persons with disabilities

Disabled Peoples' International Asia-Pacific (DPIAP) and Disabled Peoples' International - Republic of Korea (DPI-Korea) will organize the "Regional events: Welcoming new Asia and the Pacific Decade of Persons with disabilities" at Incheon City, the Republic of Korea.
The 15th DPIAP Regional Assembly: Action toward new Asia and the Pacific Decade of Persons with Disabilities, 24-25 October 2012
Asia Pacific Network of Independent Living (APNIL): Empowerment tools for Change, 26 October 2012
AP DPO United Assembly: Platform of Action to implement the Convention on the Rights of Persons with Disabilities (CRPD) through the New Decade, 27 October 2012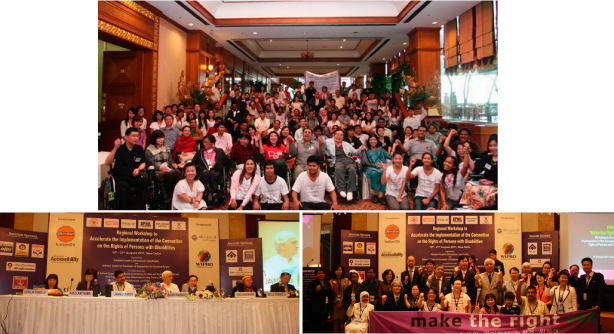 Notice:
* Observers are welcomed to (A), (B), (C)
** All participants of event (A), (B) are invited to attend (C)
*** To attend ESCAP meeting and other side events, all necessary and extra cost would be borne by each participant.
Registration Policy:
Registration Period: 9 July - 24 August, 2012
Method of registration
Others: If you are not able to register online, please contact secretariat for further assistance.
Secretariat: For local participants
Ms. Ka-ram Kim
E-mail: dpik@dpikorea.org
Tel: 82-2-457-0427 Fax: 82-2-458-0429
Website: http://www.dpikorea.org
Secretariat: For overseas participants
Ms. Worapan Buranasilpin
Email: worapan@dpiap.org
Tel: 66 (0)2 271-2123, Fax: 66 (0)2 271-2124
Website: http://www.dpiap.org/
General Information of Regional events: Welcoming new Asia and the Pacific Decade of Persons with disabilities
Please download the General Information at: http://www.dpiap.org/reports/doc/GI_Regional_events_Incheon_09_07_12.doc
Regional events: Welcoming new Asia and the Pacific Decade of Persons with disabilities Supported by
The government of the Republic of Korea
Korea Federation of Organizations of the Disabled (KOFOD)
Korean Federation of Centers for Independent Living of Persons with Disabilities (KOIL)
Regional events: Welcoming new Asia and the Pacific Decade of Persons with disabilities Funded by
The Ministry of Health and Welfare of the Republic of Korea
Incheon Metropolitan City
Korea Foundation for Persons with Disabilities
ABILIS Foundation
Source:Information and the registration at: http://www.dpikorea.org/english/index.asp and http://www.dpiap.org/
Author:
Language: English
When: 23/7/2012