Bangladesh
BPKS Organised national Seminar on UNCRPD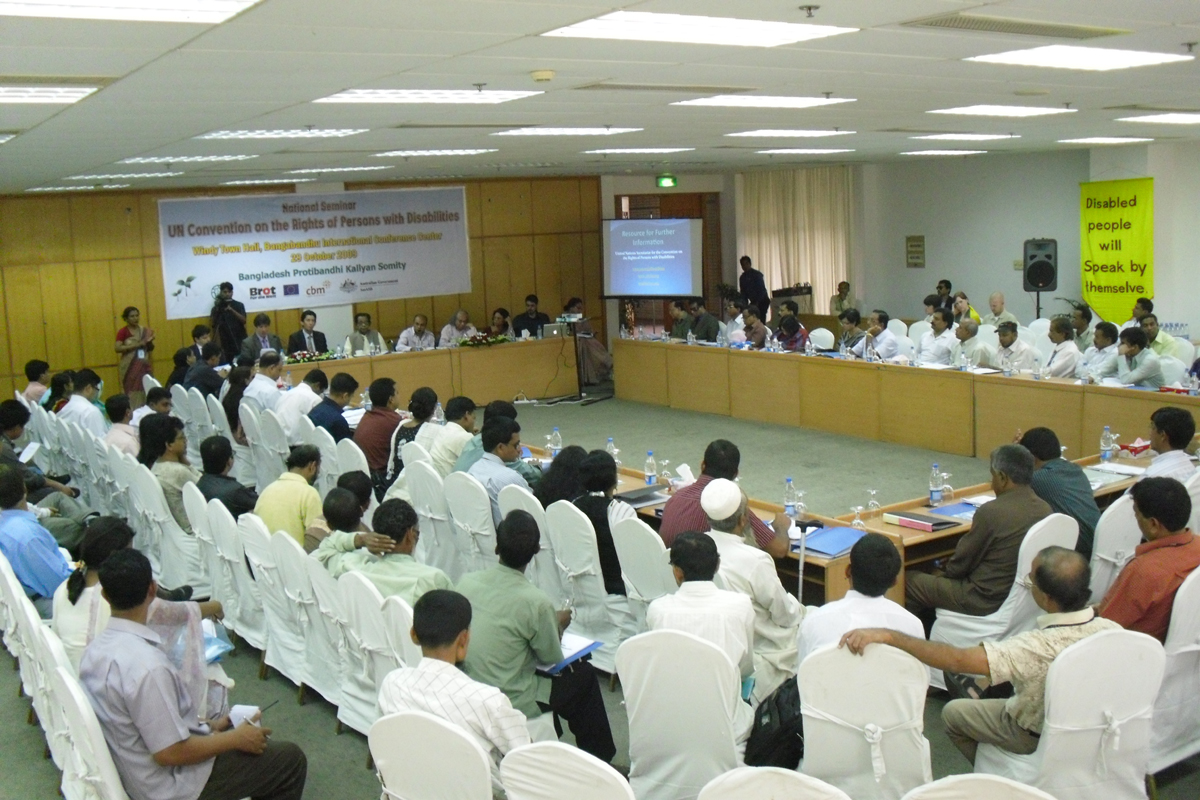 The government is planning to make a special database of persons with disabilities according to different natures of disability and gender in the next census to be held in 2011, Minister for Social Welfare Enamul Haque Mostafa Shahid said yesterday.
In the national ID cards, the persons with disability will be regarded as Golden Citizens and they will get an increased coverage of social security protection scheme, he also said.
He was speaking at a seminar on 'UN Convention on the Rights of the Persons with Disability' organised by Bangladesh Protibandhi Kalyan Samity (BPKS) at Bangabandhu International Conference Centre in the city.
The minister said the government is committed to bringing every child with disability to school. Stern actions will be taken against any school that refuses to admit children with disability.
Speakers at the seminar said according to the last census held in 2001 there are about 15 million persons with disability in the country. However, the actual number is much higher. They also added another 56 million people with age related disability to the total number.
They said although disability is a major social and economic phenomenon in Bangladesh, there is very little reliable data available on this issue, especially in the absence of a comprehensive national survey on persons with disabilities.
Qazi Kholiquzzaman Ahmad, president of Bangladesh Economic Association, said it is a must to know the actual number of disabled persons to include them in the mainstream of the country's socio-economic development.
Without appropriate statistics it will not be possible to address their needs, he added.
Advocate Salma Ali, executive director of Bangladesh National Women Lawyers Association, stressed ensuring the rights of women and children with disability.
She said it is still not possible to implement different terms of the UN convention in the legal system, as they are not yet incorporated into the domestic law.
Abdus Sattar Dulal, executive director of BPKS, pointed out that the Ministry of Social Welfare is not solely responsible for disability related issues. Welfare and charity cannot be the solution to disability.
Promoting rights-based approach incorporating disability related development plans under all ministries is necessary, he added.
The speakers also underscored the need for implementing the UN convention adding that the persons with disability should also have access to decision making.
Australian High Commissioner to Bangladesh Justin Lee, Prof Mahmuda Islam of Dhaka University, Jean-Jacques Lauture, first counsellor at the Delegation of the European Commission, Jonathan Foret, chief, PSID Worldwide, BPKS, and Gazi Mohammad Nurul Kabir, managing director of Jatiya Protibandhi Unnayan Foundation, also spoke.
Mail from: Ishaque Mia, Coordinator DPO Section, BPKS
Source: http://www.thedailystar.net/story.php?nid=111902
By:
When: 7/2/2014