Myanmar
Report of 1st Persons with Disabilitiesโ€™ Self-help Group/Organizations Conference in Myanmar
The 1st Conference of Self-help groups/organizations of persons with disabilities was held at International Business Center in Yangon, Myanmar since from 16th to 19th November, 2009. The four day conference was attended by 71 representatives (not include observers, facilitators and organizers) from 33 self-help groups / organizations of persons with disabilities in different states and divisions of the country. This conference is the first opportunity & milestone to have big gathering and to be united among disabled related organizations in Myanmar.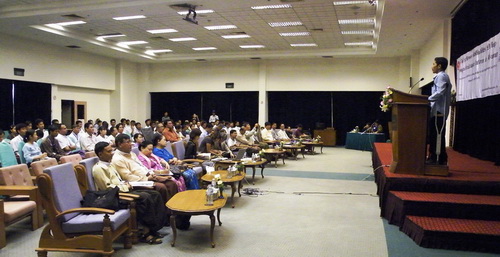 This conference was organized by Association for Aid and Relief, AAR-JAPAN and Department of Social Welfare, Myanmar. The main purpose of the conference was to empower self-help group/ organizations of persons with disabilities by newly establishing their first network in Myanmar
Participants from out of Yangon started to pour in at the venue since night of 15th. In the opening ceremony, invited representative guests from GO, INGOs, LNGOs were attended. The conference opening speech was given by Mr. Aung Tun Khine, Deputy Director of Department of Social Welfare and welcome speech was given by Ms. Sayako Nogiwa, Program Coordinator of AAR-JAPAN. On behalf of all organizers, the purpose and brief background of the conference was explained by Mr. Nay Lin Soe, CBR Manager of AAR-JAPAN. Along the conference, Mr. Hiroshi Ueno from Japan contributed as special advisor of the conference.
Specific topics discussed by presenters during four days
โ€œPWDs in Japanโ€, โ€œThe world movements and the Asian experienceโ€, and โ€œHow to strengthen the organization and promote fundraisingโ€ by Mr. Hiroshi Ueno, Japan.
Introduction to social model (new understanding on disability) by Mr. Hta Uke, Eden centre for disabled children.
Convention on the rights of persons with disabilities by Mr. Mg Myint, The Leprosy Mission International.
Disability and Development by Mr. Ko Lwin, Myanmar Millennium Development Goal.
Role of Department of Social Welfare for Self-help groups / organizations of PWDs and National Plan of the Action for PWDs by Ms. Yu Yu Swe, Department of social welfare.
Networking and Collaboration by Dr. Zaw Moe Aung, The Leprosy Mission International.
In addition, there was also interesting movie shows by Mr. Ueno, Japan and organizational experience sharing by each leader of 8 self-help groups / organizations of PWDs in Myanmar. Every after each presentation and each day, there had interesting questions & answers and active discussions regarding to topics among participants.
As the conference is aimed to create close relationship and network, through which the representatives bring their valued experience by means of sharing. Besides the news and information related SHG, CRPD, CBR, IE and disabilities are spread across the participants by means of distribution / sale of different books, booklets, leaflets, etc. so that many others can become aware of all these when the participants go back to their respective communities. Throughout the four days, the participants dealt with various subjects, interesting discussions, expressed new ideas and showed their activities in this conference.
Result of the Conference
In the section of last day, there had a big discussion among all participants and agreed to establish a Network called โ€œMyanmar Disabled People Networkโ€ with the purpose of strengthening the disabled related organizations and groups for the development of all disabled people in Myanmar through sharing information, building capacity and establishing effective network among each other. At the same time, the participants directly elected the โ€œ14-Steering committee members of Networkโ€ including representatives from Department of social welfare, 4-types of DPOs, 2-INGOs, 2-LNGOs and Medical rehabilitation society. The closing ceremony in post session was marked by Myanmar traditional song and dance performance by disabled children from schools for deaf and intellectual disabled children. Finally, Ms. Yu Yu Swe from Department of social welfare gave closing speech and the conference ended with clapping.
Major comments from participants:
Good opportunity, Good for experience exchange
Request to organize this kind of conference once a year in Myanmar
Thanks for conference organizer, AAR-Japan and other sectors
Request to provide capacity development trainings for SHG/SHOs of PWDs
This conference is the first milestone of Myanmar disabled people, we should not stop here and must continue for our future
Request to consider the law for PWDs
To strength the Network as living/working Network
Network is a successful output of the conference
By:
When: 7/2/2014