General News
Disabled rejoice over BTS ruling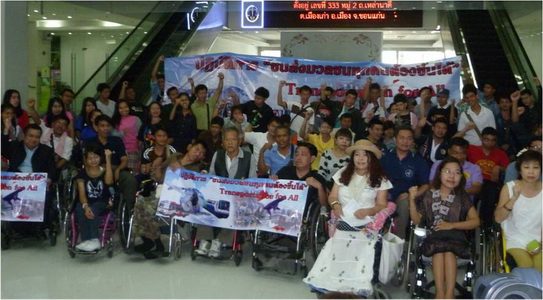 Skytrain stations to get lifts, special carriages
People with disabilities who have fought for better facilities at Skytrain stations and on trains yesterday rejoiced as the Supreme Administrative Court (SAC) handed down a ruling in their favour
The Supreme Administrative Court reversed a lower court's ruling and ordered City Hall to install lifts at all 23 Skytrain stations, or BTS, within one year to help people with disabilities. Lifts are...
he ruling was hailed as a major victory, particularly after the Central Administrative Court in 2009 threw out the group's petition, which demanded city officials add more lifts, following years of being..
The lower court was aware of the Interior Ministry's law on facilities for disabled people, which took effect in 1999, but it said it could not compel City Hall to comply because it had already approved...
However, a group of disabled people led by Suporntum Monkolsawadi said the ruling was based upon an unfair technicality, and insisted on the need for better access to transport. They appealed the verdict,...
Additional Information
Country: Thailand
Website: N/A
Email: N/A
Phone: N/A
Contact Person: N/A
Source: Bangkok Post
When: 22/1/2015