DPI/AP Reports 2011
Asia Pacific Regional Consultation with the UN Special Rapporteur on Violence against Women, Its Causes and Consequences, Rashida Manjoo on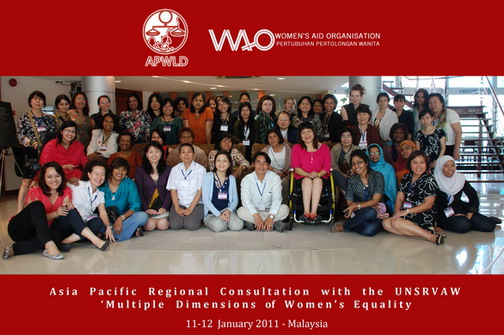 Objectives of the Consultation
The objectives of the 2010 Consultation are:
To create a safe space for women to expose and challenge the multiple forms of violence, discrimination, inequality and injustices they face within laws and practices in the region;
To examine the nexus between womenโ€™s multiple identities and the multiple forms of discrimination they experience, including the root causes of discrimination within the context of patriarchal systems as manifested in fundamentalism, militarisation and neo-liberal globalisation;
To identify existing mechanisms of justice and effective remedies within national, regional and international levels through learning from the strategies and activism of women. Beyond these objectives, the Consultation will also identify the challenges posed by the patriarchal systems and institutions that reinforce the compounding subordination of women, as well as the gaps that exist between womenโ€™s lived reality and universal human rights. It will also contribute to strengthening womenโ€™s rights activism for change on the ground to eliminate all forms of discrimination and violence against women and solidarity at regional level.
Pleae read CONCEPT NOTE from: http://www.dpiap.org/reports/concept note_APWLD_Consultation_SRVAW_11_01_21.pdf
Pleae read What is Intersectionality document from: http://www.dpiap.org/reports/Intersectionality_APWLD_11_01_21.pdf
Author:
Language: English
When: 21/1/2011