DPI/AP Reports 2011
Australian Volunteers International (AVI) receives Disability Equality Training (DET) at Disabled Peoples International-Asia Pacific (DPI/AP) 12th of October 2011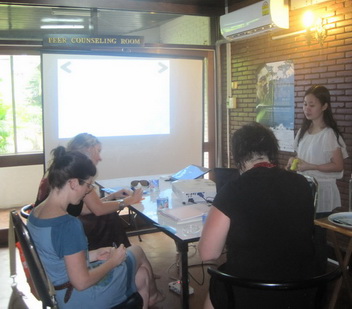 The Australian Volunteers International (AVI) comes to visit Disabled Peoplesโ€™ International-Asia Pacific Regional Centre (DPI/AP) for Disability Equality Training (DET) on the 12th day of October 2011. A half-day DET is given to three (3) young volunteers as a part of the introduction to disability, raising awareness and shifting ideas from Medical to Social Model perspective.
The Australian Volunteers International (AVI) is a significant contributor to a peaceful, just and sustainable world; a world of respectful global relationships where all people have access to the resources they need, the opportunity to achieve their potential, the right to make decisions about the kind of development they want and to participate in the future of their communities.
International volunteering is based on reciprocal learning through commitment, engagement and solidarity contributes to such a world. International volunteers share their knowledge, experiences and skills as they live, work and learn in response to the needs expressed by local communities. Australian Volunteers International provides opportunities for Australians to become volunteers and assists them in sharing knowledge from their experiences.
Author: Ms. Chona Sabo
Language: English
When: 16/10/2011