DPI/AP Reports 2010
The Visit of The University of Deleware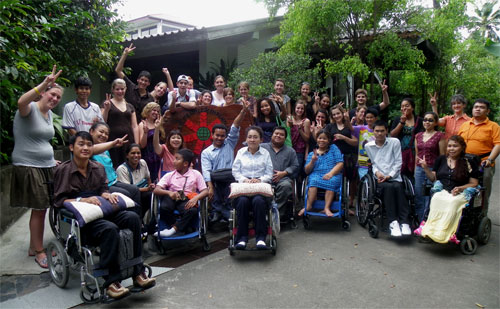 On 25th January 2010, DPI/AP welcomes the visit of University of Deleware. This visiting is the opportunities to learn and understand the Disability, Poverty and ICT movement in Thailand and in Asia Pacific region.
The visiting of 24 students with 2 faculty form University of Deleware would like to learn about how disability in Thai culture and services for people with disabilities have developed in Thailand that is the part of a "study abroad" program that focuses on disability issues around the world.
The visiting program separates in 2 parts. Morning part is the Presentation on โ€œDisability and Poverty in the Asia-Pacific Regionโ€ by Ms. Saowalak Thongkuay and Presentation on โ€œICT, Disability and Developmentโ€ Mr. Sawang Srisom, Chairperson, Network of Music and Art of Persons with Disabilities by Mr. Sawang Srisom and part 2 start in the afternoon setting the group interview.
Please read report from: http://www.dpiap.org/reports/zip/deleware_10_02_02.zip
Author: DPI/AP
Language: English
When: 2/2/2010