DPI/AP Reports 2011
Report of "Gender Equity and Development Effectiveness"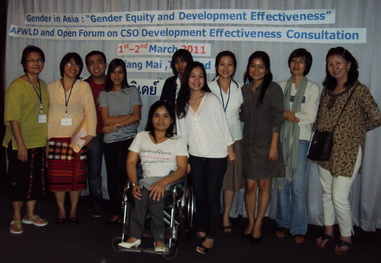 Pacific Forum on Women, Law and Development (APWLD) organized the Consultation on Gender in Asia: "Gender Equity and Development Effectiveness"1st - 2nd March 2011Chiang Mai, Thailand
An open forum is a three-year internationally-recognized and CSO-led process that offers a space for CSOs worldwide to engage in a global and fully participatory process towards defining and introducing a framework of mutually shared development effectiveness principles and guidelines. Its objectives are
The creation of open process,
The development of a CSO vision on development effectiveness,
An agreement on common principles,
An agreement on guidelines on how to apply these principles and documentation of good

practices for context-relevant mechanisms appropriate to each country and region.[/li]

A global agreement on minimum standards for an enabling environment at the 4th High Level Forum in South Korea in late 2011.
Please read full report from: http://www.dpiap.org/reports/doc/Gender_Equity_Development_ChiangMai_2011_05_03.doc
Author:
Language: English
When: 2/5/2011