DPI/AP Reports 2011
Report of Disability Rights Promotion International (DRPI) Asia-Pacific Regional Disability Rights Monitoring Training in Bangkok, Thailand, July 03-10, 2011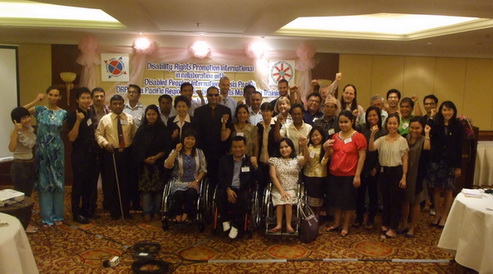 Disability Rights Promotion International (DRPI) in collaborate with Disabled People's International Asia Pacific (DPIAP) orgainized the DRPI Asia Pacific Regional Disability Rights Monitoring Training Disability Rights Promotion International (DRPI) at Prince Palace Hotel Bangkok, Thailand (July 03-10, 2011), financial support by The Swedish International Development Cooperation Agency (SIDA)
The training invited 19 participants from five countries namely Bangladesh, Cambodia, Lao, Nepal and Thailand participated in these eight (8) days DRPI Asia Pacific Regional Disability Rights Monitoring Training in Bangkok, Thailand.
Aims:
Disability rights monitoring involves collecting information about the whether or not persons with disabilities are able to enjoy their human rights. Credible and accurate information about the human rights situation of people with disabilities can persuade governments that abuses are occurring and that action is needed to fulfill human rights obligations. Recording information about the experiences of individual persons with disabilities can uncover a pattern of discrimination affecting large numbers of people. Data outlining the extent of disability discrimination can:
promote greater awareness of the need for social change,
provide facts and figures useful for lobbying and other advocacy, and
supply governments with credible documentation to support the creation of more inclusive social policies and laws.
The DRPI project has developed a holistic approach to monitoring disability rights, focusing on finding the facts in three key areas:
Individual experiences of persons with disabilities (through face to face interviews);
Systemic measures taken to protect and promote disability rights (laws, policies, programs)
Societal attitudes toward disability (by looking at depictions and coverage of disability in the media).
Disability Rights Promotion International (DRPI) Monitoring Training documents
Please read full report from: http://www.dpiap.org/reports/doc/Report_DRPI_Asia_Pacific_Monitoring_Training_11_07_27.doc
Please download Annex A training agenda from: http://www.dpiap.org/reports/doc/AnnexA_DRPIAP_Training_Agenda_11_07_28.xls
Please download Annex B List of Participants from: http://www.dpiap.org/reports/doc/AnnexB_DRPIAP_List_Participants_11_07_28.xls
Please download Annex C Mr. Patrick Anderson of UNESCAP Opening statement to DRPI Training from: http://www.dpiap.org/reports/zip/AnnexC_Patrick_Anderson_UNESCAP_Opening_statement_11_07_28.zip
Please download Annex D Ms. Kingkaew Inwang speech DRPI Training from: http://www.dpiap.org/reports/doc/AnnexD_Kingkaew_Inwang_speech_DRPI_11_07_28.doc
Author: Ms. Chona Sabo
Language: English
When: 28/7/2011