DPI/AP Reports 2012
HIV and Disability Leadership Forum 21 July 2012 Gallaudet University, Washington D.C And XIX International Aids Conference, 22-27 July 2012, Walter E. Washington Convention Centre, Washington D.C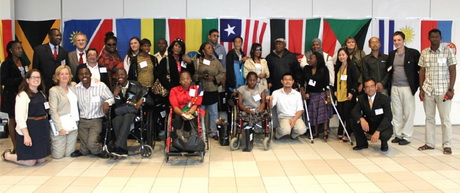 Aims:
To bring together young activists from around the world to discuss the intersections of disability, human rights and HIV;
To develop advocacy skills for advancing your disability rights work; and to connect with other advocates.
To remove some of the barriers that stand between the next generation and their full leadership capacities.
To expose young leaders to the seasoned pros, which have invaluable advocacy lessons and skills to impart, and give them the modern skills needed to build and maintain networks in a globalized world.
Report of HIV and Disability Leadership Forum and XIX International Aids Conference
Please read the report from: http://www.dpiap.org/reports/doc/Report_HIV_Disability_Leadership_Forum_XIX_International_Aids_Conference_12_09_10.doc
Washington Declaration
Please download the Washington Declaration PLUS (our outcome document from HIV & Disability Leadership Forum) from: http://www.dpiap.org/reports/pdf/Washington_Declaration_PLUS_12_09_10.pdf
Youth Perspective on Mainstreaming Disability into HIV Programs by Ms. Chona M. Sabo
Please download presentation from: http://www.dpiap.org/reports/ppt/Youth_Perspective_Mainstreaming_Disability_HIV_12_09_10.ppt
Author:
Language: English
When: 10/9/2012