DPI/AP Reports 2012
Capacity Building Program with Field Exposure in "Community Driven Development" (CDD) For International Participants 16 - 28 July 2012 at Bala Vikasa People Development Training Centre Warangal, Andhra Pradesh, India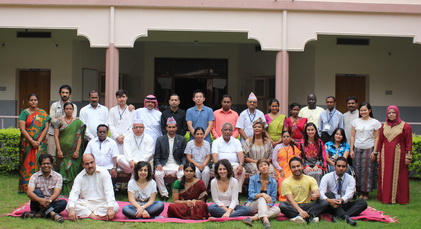 Bala Vikasa PDTC (People development Training Center) started the "two-week" long International Capacity Building and Field Exposure program in "Community Driven Development" on 16th July 2012. Twenty nine participants from 12 countries, namely Afghanistan, Bangladesh, China, Maldives, Nepal, Sri Lanka, Italy, Jordan, Sudan, South Africa, Thailand and India are participating in the training.
Mrs. Bala Theresa Gingras, Founder of Bala Vikasa and Mr. S. Shoury Reddy, the Executive Director, and all the staff members from various departments participated in the inaugural program. All the members introduced themselves in the welcome and introductory session. Mr. Bala Theresa Gingras gave a message and encouraged the participants to learn "Development Skills and Knowledge" from the activities of Bala Vikasa that have been time tested for over 35 years. Mr. S. Shoury Reddy gave the orientation of the two weeks program to the participants and spoke about the various topics like Sustainable Development, ABCD approach, Strategic Planning and Result Based approach, Appreciative Enquiry, Development Communications, NLP and Conflict Resolution".
Most participants are from the NGO sector and have a lot of knowledge and work experience in the field of development. Apart from development practitioners, three students from Catholic University, Italy and one student from Hong-Kong University of Science and Technology are participating in the training program.
Please read full report from: http://www.dpiap.org/reports/doc/Report_Community_Driven_Developmen_India_12_09_27.doc
Author:
Language: English
When: 27/9/2012