DPI/AP Reports 2012
Creating New Futures for All: Children, Youth, Disability and Situations of Forced Migration, 28-30 November 2012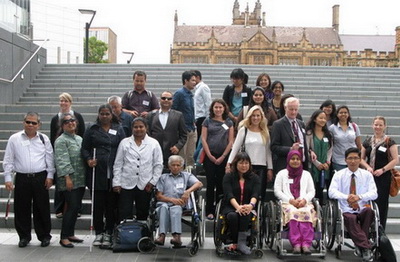 The Creating New Futures for All conference, hosted by The University of Sydney and One Billion Strong from 28th - 30th November 2012, will bring together leading academics and organizations specializing in children's rights, refugee protection and disability. The conference goal is to promote the sharing of knowledge, experience and good practice around inclusion of children and young persons with disabilities displaced by war, conflict or disaster.
This workshop, co-facilitated by WRC and Disabled People International Asia-Pacific (DPIAP)
The Creating New Futures for All is an international symposium explores the intersection of three seminal instruments which set out a clear agenda for promoting and pursuing the inherent dignity and worth of all members of society. Children's right to provision, protection, and participation are critical aspects of the UN Convention on the Rights of the Child (UN CRC), which aims to promote and protect the dignity, identity, safety and welfare of children. The UN Convention on the Rights of Persons with Disabilities (UN CRPD) and the Convention and Protocol relating to the Status of Refugees (Refugee Convention and Protocol) provide frameworks for the protection, recognition and respect of two other groups widely recognized as being on the margins: persons with disability and refugees.
Report
Please download the report from: http://www.dpiap.org/reports/doc/Report_Creating_New_Futures_for_All_12_14_12.doc
Annex
Author:
Language: English
When: 14/12/2012