Convention on the Rights of Persons with Disabilities
Committee on Social Development to break new ground on advancing the rights of persons with disabilities in Asia-Pacific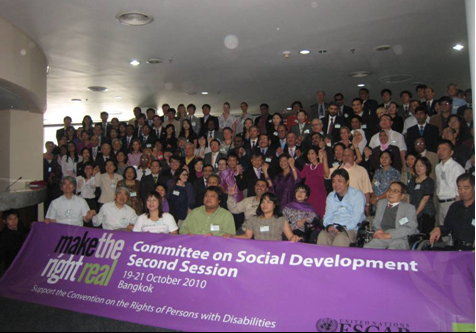 Committee on Social Development to break new ground on advancing the rights of persons with disabilities in Asia-Pacific
Bangkok (UN ESCAP Information Services) โ€" The compelling vision of an inclusive, barrier-free and rights-based society in Asia and the Pacific will come within closer reach as the intergovernmental legislative forum, the Committee on Social Development, convenes its second session from 19 to 21 October at the United Nations Centre, Bangkok.
This year, the Committee will focus on โ€œMainstreaming disability into the regional development agenda in Asia and the Pacificโ€.
An estimated 400 million persons with disabilities live in the Asian and Pacific region. The lives of persons with disabilities are marred by greater inequities and disparities than is the case for those without disabilities, as they struggle against prejudice, discrimination and denial of basic human rights.
In a region that is making significant progress on universal education, some 90 per cent of children with disabilities in developing countries do not attend school. The unemployment rate among persons with disabilities can be up to 10 times higher that of the total population; 8 out of every 10 persons with disabilities live below the poverty line. Women with disabilities face multiple forms of discrimination and are disproportionately represented among the poor.
With the adoption of the landmark Convention on the Rights of Persons with Disabilities (CRPD) in May 2008, the Committee will review the status of this first-ever disability-specific and legally binding human rights instrument in Asia-Pacific.
The Committee will address regional trends and emerging issues in the field of social development, particularly social protection for the most vulnerable social groups, to strengthen related regional cooperation.
Expected outcomes of the Committee session include better intergovernmental understanding of the status of the Convention and its implementation; and promotion of good practices in disability-inclusive development. The Committee session may also point the way forward to the road beyond the conclusion of the second Asia-Pacific Decade of Disabled Persons in 2012.
The Committee is the first intergovernmental step in the preparatory process leading to the High-level Intergovernmental Meeting on the Final Review of the Implementation of the Asian and Pacific Decade of Disabled Persons, 2003-2012, to be held in the Republic of Korea in 2012.
Background documents are available at . Over 180 participants have confirmed their attendance, representing 23 Governments, as well as 18 civil society organizations and seven UN and intergovernmental entities.
The Committee on Social Development will be inaugurated by H.E. Mr. Kasit Piromya, Minister of Foreign Affairs of Thailand.
Information Documents
Source: UN ESCAP Information Services
By: UN ESCAP Information
When: 7/2/2014